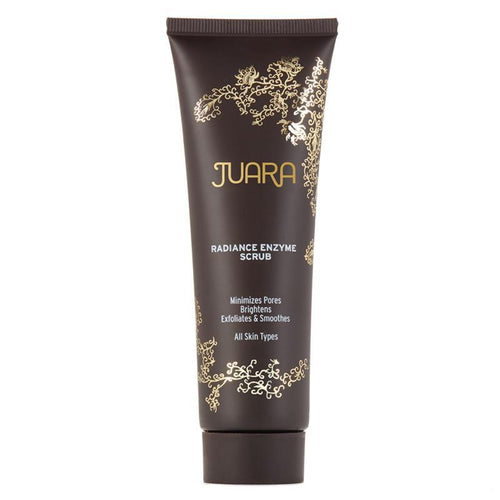 Radiance Enzyme Scrub 73ml
JUARA Skincare
REFINES PORES | BRIGHTENS | EXFOLIATES | SMOOTHS SKIN TEXTURE 
Reinvigorate dull, dry skin with this cleansing and exfoliating facial scrub and experience smooth, radiant skin in a single application. Specially formulated with botanical brightening agents including turmeric and clove flower. With exfoliating apple enzyme, pore-refining ginger, and perfectly round jojoba and bamboo beads, this product is suitable for all skin types.
This is a 3-in-1 formula that cleanses, gently exfoliates, and brightens skin in one step. No additional cleanser is needed.
Use 1-2 times per week. Can be used as a traditional facial scrub or an enzyme mask. Gently massage onto damp skin avoiding the eye area. Use as an enzyme mask: Apply a generous layer and leave on for 2-3 minutes or a gentle, exfoliating enzyme treatment. Rinse thoroughly. Follow with a hydrating toner, serum, or moisturizer.
This product is for you, if you:
- Want an immediate Radiance boost.
- Are concerned with dull, lackluster skin, and rough texture.
- Are looking for a scrub that also cleanses and is easy to incorporate into your current skincare routine.
- Want the dual benefits of both mechanical exfoliation (scrub) and chemical exfoliation (enzyme) in one product.
Key Jamu Ingredients: Jojoba Beads, Bamboo Beads, Apple Enzyme, Ginger, Cinnamon, Candlenut Oil, Radiance Complex (Turmeric, Clove Flower, Indian Gooseberry, Green Tea Extract, Algae).
All Ingredients: Water, Jojoba (Simmondsia chinensis) Esters, Decyl Glucoside*, Bamboo (Bambusa arundinacea) Stem Extract, Apples (Malus Frosts) Enzyme Extract, Gylcerin, Coco Glucoside*, Rice (Oryza sativa) Starch, Polyglyceryl-10 Caprylate/Caprate*, Glyceryl Oleate*, Carrageenan*, Candlenut (Aleurites moluccana) Oil, Clove Flower (Eugenia carophyllus) Extract, Clove Flower (Eugenia carophyllus) Extract, Cinnamon (Cinnamomum cassia) Extract, Ginger (Zingiber officinale) Extract, Burnet (Poterium officinale) Extract, Red Algae (Chondrus crispus) Extract, Sodium Hyaluronate, Aamla (Phyllanthus emblica) Fruit Extract, Tetrahydrocurcuminoids, Ferulic acid, Di-Potassium Glycyrrhizinate, Green Tea (Camellia sinensis) Leaf Extract, Coco-Caprylate*, Lauryl Glucoside*, Polyglyceryl-2 Dipolyhydroxystearate*, Polyglyceryl-3 Diisostearate*, Butylene Glycol, Potassium Sorbate, Maltodextrin, Natural Fragrance, Sodium Levulinate, Xanthan Gum*, Citric Acid.*NPA, ECOCERT, COSMOS Approved
JAMU INGREDIENTS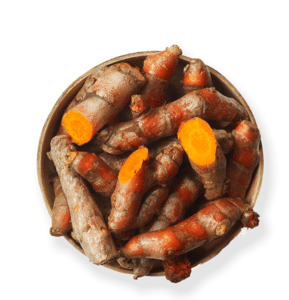 Turmeric
A featured ingredient in the iconic Indonesian Lulur Treatment, Turmeric is a staple in each Indonesian household and featured in nearly all Jamu recipes. A member of the ginger family, Turmeric is known for its powerful antioxidant and anti-inflammatory benefits.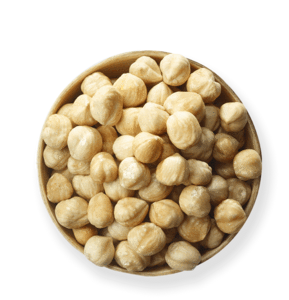 Candlenut
Candlenuts are used as a staple in Indonesian food dishes, in addition to body scrubs, hair treatments (like the deep conditioning cremebath), and scalp oils. Candlenut Oil is known for its easy, velvety skin absorption due to the rich Omega 3 and 6 essential fatty acid content which helps penetrate and moisturize even the driest of skin.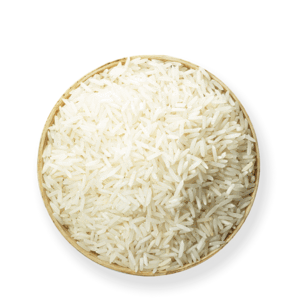 Rice
Rice bran oil and rice starch extracted from Indonesia's beautiful rice paddies has been used to treat dry and stressed skin, including eczema, for centuries.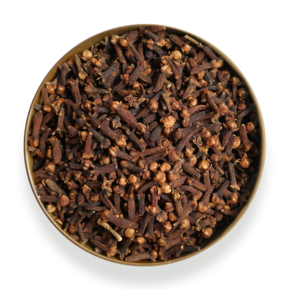 Clove Flower
Native to the Molucca Island of Indonesia, Clove Flower has been traditionally used in Boreh Spa Treatments to brighten and even skintone by inhibiting melanin synthesis in the skin.